Kramis Tufting School; Unrivaled Online Tufting Tutorials
Join Kramis (swiss), Europe's primary manufacturer of rugs and absolute master in tufting. These top-notch tutorials set the standard. Begin your journey to tufting excellence with Kramis today as we unveil the secrets behind creating exquisite hand-tufted rugs. Our comprehensive course takes you through every intricate step, ensuring you master the craft like a pro for CHF 102,85 (approximately 100 euro).
Sign up now using: Tuftingshop10  to recieve 10% off your order.
🎓 Course Highlights:
🌟 10 Comprehensive Lessons: Gain expertise in the complete rug-making process, from inception to the finishing touches.
🌟 Craft a Stunning Rug: Together, we'll create a one-of-a-kind rug that encompasses essential techniques and skills.
🌟 Seamless Learning: Our uncut video demonstrations, supplemented with occasional text inserts, eliminate language barriers. Experience the "International Language of Tufting."
🌟 Unlock Hidden Techniques: Discover our closely guarded, innovative methods, honed over 40 years. Now, we're sharing this invaluable knowledge with you.
🌟 Tailored Learning: Whether you're a beginner or looking to elevate your skills, this course caters to all levels.
🌟 Certification: Earn a prestigious certificate as a professional tufter, showcasing your mastery of the rug-making process.
🌟 Perfect Complement: Ideal for those who have delved into our eBook, "Materials & Tools for Tufting."
Join us in celebrating the art of rug crafting and unleash your creativity. With KRAMIS, you're not just learning a skill; you're joining a community passionate about making beautiful rugs.
Enroll now and gain exclusive access to our members' area, where you can immerse yourself in our video tutorials. Plus, enjoy the peace of mind with our 60-Day Money Back Guarantee.
Start your rug-making journey with KRAMIS today! 🧡🎨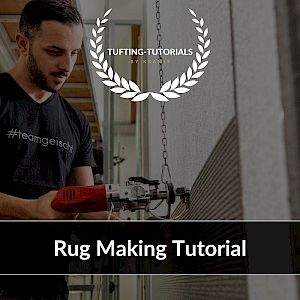 Sign up now using: Tuftingshop10  to recieve 10% off your order.
Enroll Now